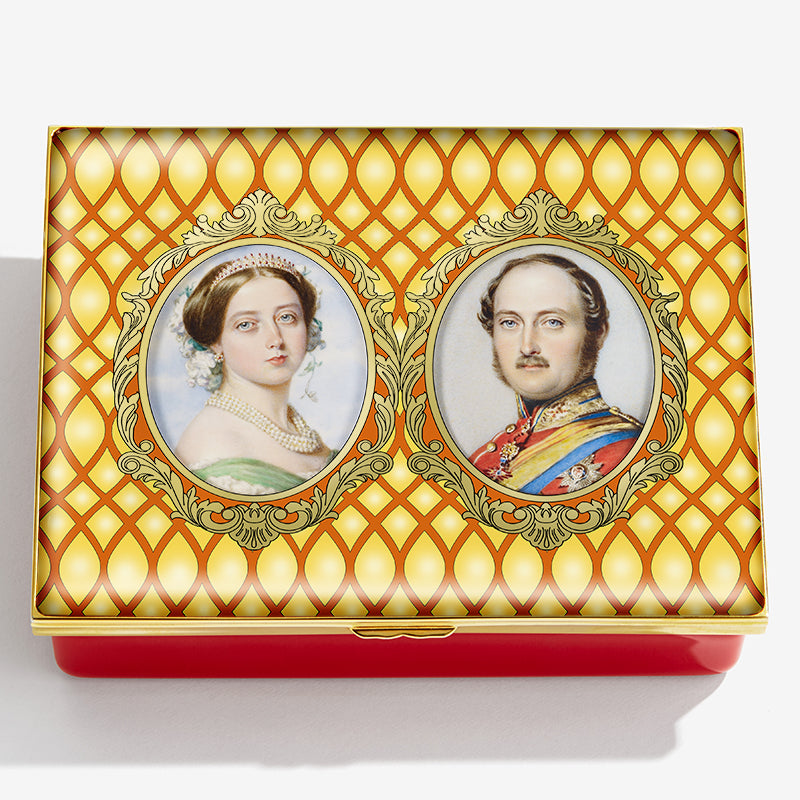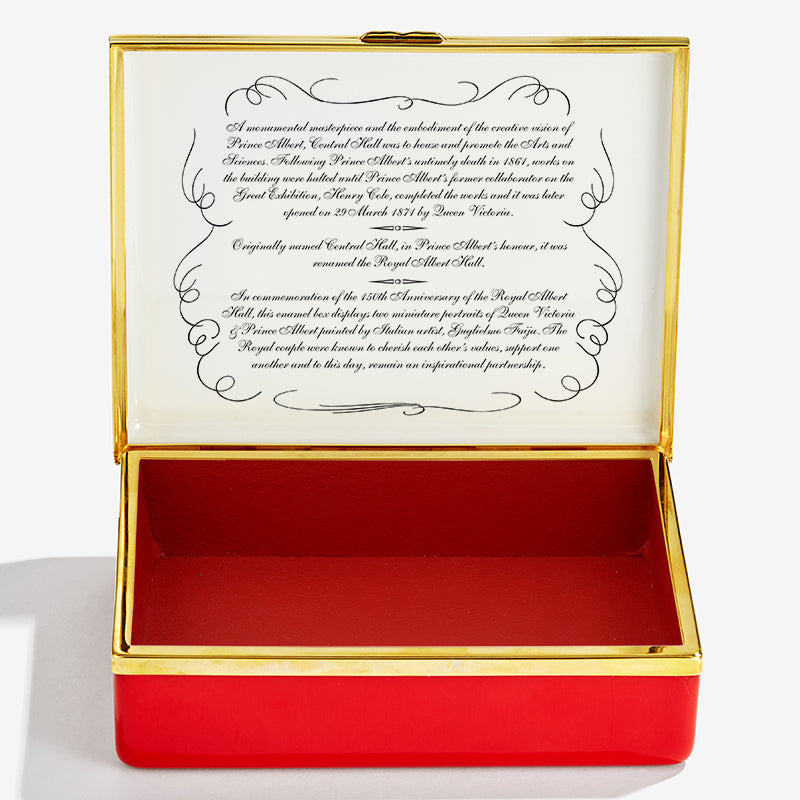 Queen Victoria & Prince Albert - Unchanging Love & Devotion Box
Description

Please note that this product is handmade to order and will take approximately 8 weeks to deliver.

 

In commemoration of the 150th Anniversary of the monumental masterpiece and the Royal Albert Hall, this enamel box displays two miniature portraits of Queen Victoria & Prince Albert side by side, set upon a radiant yellow and orange trellis design as a subtle nod to orange blossom worn by Queen Victoria on her wedding day. Wearing the Strawberry Leaf Tiara and Spring flowers interwoven in her hair, Queen Victoria is depicted looking into the distance wearing a lace-bordered décolleté white dress, trimmed with a green sash. Meanwhile, Prince Albert is shown to be wearing his military uniform adorned with triumphant achievements, including the Order of the Garter Star.

A monumental masterpiece and the embodiment of the creative vision of Prince Albert, the building was created to house and promote the Arts and Sciences. Following Prince Albert's untimely death in 1861, works on the building were halted until Prince Albert's former collaborator on the Great Exhibition, Henry Cole, completed the works and it was later opened on 29 March 1871 by Queen Victoria. Originally named Central Hall, in Prince Albert's honour, it was renamed the Royal Albert Hall. 

The Royal couple were known to cherish each other's values, support one another and, to this day, remain an inspirational partnership.

 Limited to an edition of 50.
Measurements

Length 138mm
Width 117mm
Height 37mm
Queen Victoria & Prince Albert - Unchanging Love & Devotion Box